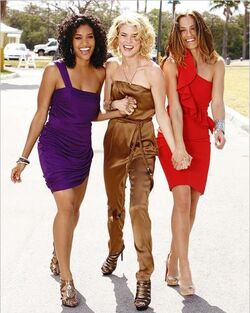 Charlie's Angels is a culturally iconic show. It's one of the first mainstream shows to showcase strong, attractive women who kick ass. Many shows have followed in their footsteps with modern incarnations like J.J Abram's Alias and Joss Whedon's Buffy the Vampire Slayer.
Modern audiences first became re-acquainted with Charlie's Angels when the two popular films starring Lucy Liu, Drew Barrymore, and Cameron Diaz came out during the 2000s. This time, Charlie's Angels is coming back to our TV screens this fall! Check out the latest three Angels: Minka Kelly, Annie Ilonzeh and Rachael Taylor and make sure you catch Charlie's Angels on ABC!
Source
Kate.moon 18:53, May 9, 2011 (UTC)
Ad blocker interference detected!
Wikia is a free-to-use site that makes money from advertising. We have a modified experience for viewers using ad blockers

Wikia is not accessible if you've made further modifications. Remove the custom ad blocker rule(s) and the page will load as expected.