Where'd They Shoot That
Edit
While most of the interior locations seen throughout the series were sets built on the 20th Century Fox lot in Century City, CA, a few actually brought the stars and production crew to genuine locations in the Los Angeles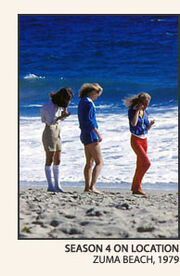 area, as well as various other major cities including Las Vegas, NV, Honolulu, HI, and Vail, CO. And, fortunately for Angels fans, many remain relatively unchanged today.
During the show's five-season run, its stars were subject to being mobbed whenever the show went on location. The studio preferred to place the girls in outdoor scenes to show off their beauty against the natural backgrounds and to create realistic-looking adventures for them that just wouldn't be the same in a studio setting. Location shoots sometimes got out of hand, with fans (mostly men) constantly approaching the actresses during shooting, and bodyguards eventually had to be hired by the studio. Often, the girls even needed police protection.
Sweet Spots
Edit
Los Angelas Police Academy
The Townsend Agency Office
Sabrina's Apartment
King Gillete Ranch
Locations
Edit
San Jose, CA
Avenue of the Stars
The Backwoods Inn
Barzak Circus
Bowling Alley
Burton Chase Park
Calejo Prison
Century Towers
Consenting Adults Building
Cunnigham Antiques
Department Of Motor Vehicles
Felise's Boutique
Food Stand
Fort DeRussy Beach Park
Fox Hills Condo
Freddie's Disco
Gallop Brokerage Firm
Ghosts and Angels Mansion
Grand Olympic Auditorium
Greg Cates' House
Griffith Park
Guido's Restaurant
Haji Baba's
Harkin's Conservatory
Honolulu Intl. Airport
The Ilikai Hotel and Suites
International Theatrical Agency
Jojo's Motorcycle Chase Route
Kelly Garrett's House
Kelly's Car Accident Corner
Kelly's Shooting
King Gillette Ranch
Kitchen Cottage
The Lodge at Vail
Los Alamitos Race Course
Los Angelas Memorial Coliseum
Madam Smith's Apartments
The Magic Castle
Malibu Creek State Park
Malibu Pier
Manescu's Apartment
Marina Del Rey
Marty's Hamburger Stand
Miss Chrysanthemum's Hotel
Miss Chrysanthemum's Theater
Mrs. Machlin's Gas Station
Mulholland Highway
Ontario Motor Speedway
The Opera House
Paradise Beach Hotel
Paradise Massage Parlor
Paramount Ranch
Paylon, Arizona
Pier 10
The Pike Amusement Park
Queen Mary
Rancho Park Pharmacy
Rita Morgan's Apartment
The Rock Store
Roger's Boutique
Rosie's Chilli
The Royal Haiwaiian Resort
Saint Thomas
Santa Monica Pier
The Seawave Hotel
Sheratown Town House
Sheratown Waikiki
The Shores Apartments
Starbrite Theater
Tarzana Park
Taxi Angels Route
Taxi Theft
Telly's Massage
Tiffany's Sorority House
The Townhouse Motel
Towsend Office (Hawaii)
Tropical Fish Store
U.S Coast Guard Pier
Van Doriand Diamond Company
Van Nuys Superior Court
Venice Beach
Villa Antibes Apartments
Villa Beneda Apartments
Waimanlo Beach
Wheels Of Fortune Skate Shop
Whitley College
Ye Old King's Head Pub
Zuma Beach/ Point Dume

Ad blocker interference detected!
Wikia is a free-to-use site that makes money from advertising. We have a modified experience for viewers using ad blockers

Wikia is not accessible if you've made further modifications. Remove the custom ad blocker rule(s) and the page will load as expected.